Oxytetracycline Bolus 500mg
Product Detail
Product Tags
Pharmacodynamics: This product mainly interferes with and inhibits the synthesis of protein, thereby producing the effect of killing microorganisms, against gram-positive bacteria, gram-negative bacteria, mycoplasma, chlamydia, rickettsiae, spirochetes , Porcine eperythrocytes, etc. have inhibitory effects.
Mainly for animal pneumonia, Staphylococcus, Bacillus anthracis, Tetanus, Pasteurella multocida, Haemophilus, Mycoplasma, Chlamydia, Rickettsia (eperythrocytic body) and other bacteria have a good inhibitory effect. On the other hand, animal worm disease, leptospirosis, swine pneumonia, gas charcoal, asthma, swine dysentery, endometritis and mastitis in pigs, cattle and sheep. Pullorum, Escherichia coli, Vibrio infection, umbilical inflammation, enteritis of young birds; Aquatic vibriosis, scale disease, eel fin disease, etc. also have a good control effect.
500mg Oxytetracycline bolus is an oral formulation containing oxytetracycline, a broad spectrum antibiotic that possesses a high order of stability and potent antimicrobial activity.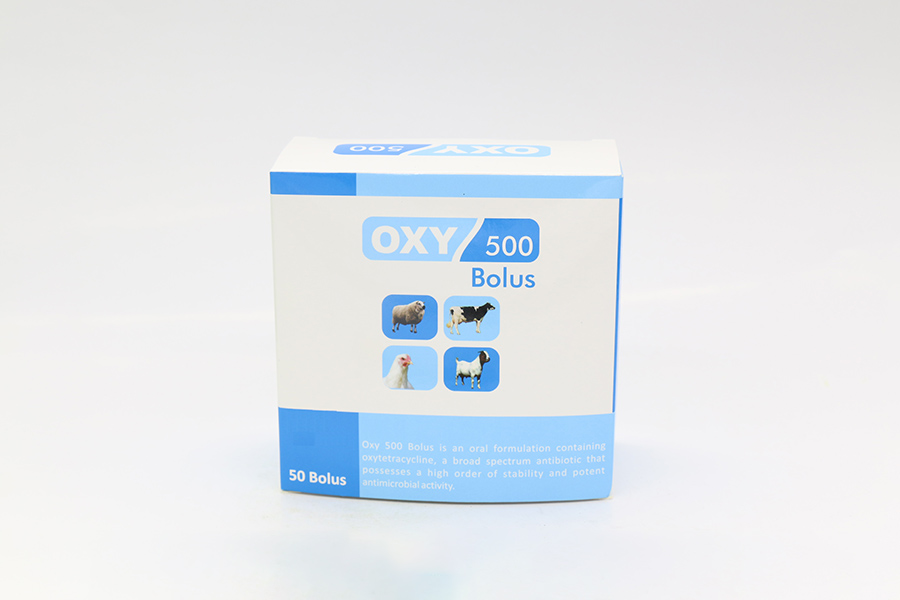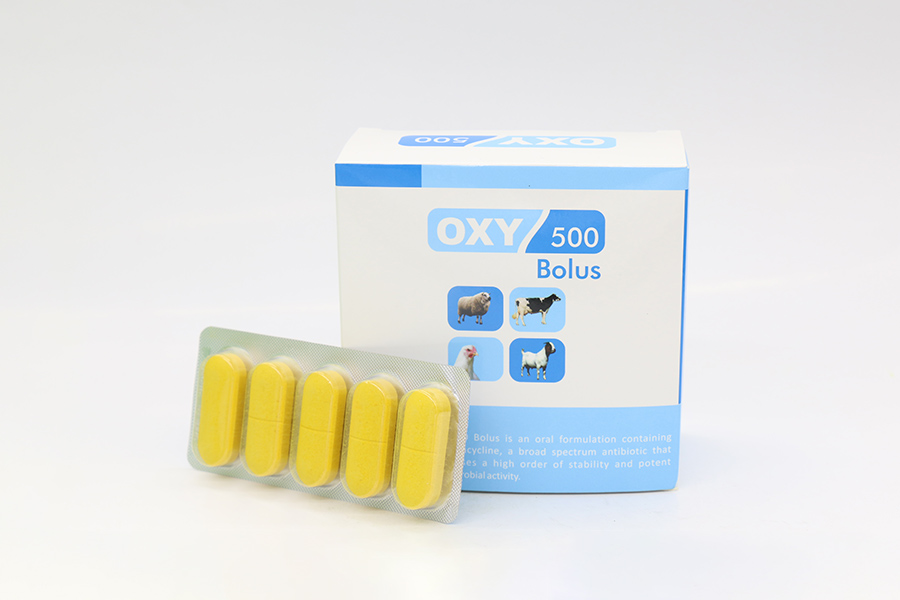 Oxytetracycline belongs to the tetracycline class and is a broad-spectrum antibacterial agent. It can increase the measured values ​​of alkaline phosphatase, blood urea nitrogen, serum amylase, serum bilirubin, and serum aminotransferase (AST, ALT). Long-term medication should regularly check blood routines and liver and kidney functions, because oxytetracycline can easily cause liver toxicity.
Oxytetracycline can enter the fetus through the placental barrier and deposit in the calcium area of ​​the teeth and bones, causing discoloration of fetal teeth, poor enamel regeneration and inhibiting the growth of fetal bones. There will be so-called "tetracycline teeth". However, birds do not have a placenta, but it may also cause the hardness of the egg shell during ovulation. Therefore, in order to avoid soft-shelled eggs, it is not recommended to feed oxytetracycline to female birds in estrus.
(1) Prohibited for pregnant sows.
(2) Avoid mixing with tap water with high chlorine content and alkaline solution. Do not use metal containers for medicines.
(3) Avoid compatibility with dairy products, drugs containing calcium, magnesium, aluminum, and iron, and feeds with high calcium content. It should be taken on an empty stomach before feeding.
(4) Adult ruminants, equine animals and rabbits are not suitable for oral administration. Long-term application can induce double infection of drug-resistant bacteria and fungi, and severe cases can cause sepsis and death.
---
Previous:
Albendazole Bolus 2500mg
---